Colour can be a very personal thing. We may not realise it, but subconsciously the colour of a room affects your mood. This is why it is so important to pick colours that fit the tone of the room that you are creating. Forget about the changing trends and instead focus on what colour scheme makes you feel good?
When dreaming up your room, try to avoid seeing spaces in isolation. They are always connected, so it is an important element to get right to create a seamless flow.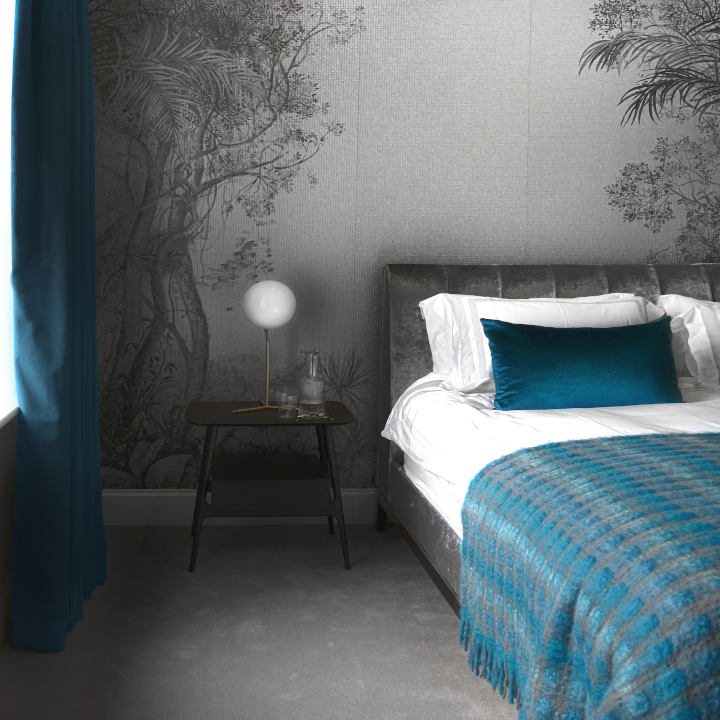 For this client in South County Dublin, the colours turquoise, grey, black and white were chosen. For a bedroom, this colour scheme is perfect as grey tones create a sense of relaxation and blue tones give the feeling of calmness. We chose white as the neutral tone to tie in the Irish hand-woven turquoise throw, the grey Arte wallpaper and the Flos lighting.
Ask yourself the following questions when picking the colours of your room:
What colour scheme are you immediately drawn to?
Do you like neutral colour schemes with an accent of strong colour that can be updated or changed?
Would you like a room to make an impact with colour?
Maria x
Interior Architecture and Design